This Roor gallery is now a photo archive and resourse for Roor fans.
I will not be posting any more Roor users' pics.
These several pages of pics contain only pics sent in by private persons with no commercial interests.
Above, an Original German Roor Custom
Two USA made Roors and a hookah that I'm not sure about.
Hi Susan, love your website, it's the finest collection of Glass on Glass anywhere on the net. Here's my little offering to be added if you can.
It's a German Roor 5mm black label, Little Sista Big Brother with a matching black label diffuser, attached is the WeedStar inline perc
and WS One Hit Bowl.
US Roor, 9mm 18 in beaker w/ matching label 4 perc a/c and
a bowl by loco.
My first roor being the white label, second being the red label.
The white label was broken by a friend but he bought me the red label in return, pretty nice thing to do I'd say.. Same squiggly on both, just different colors.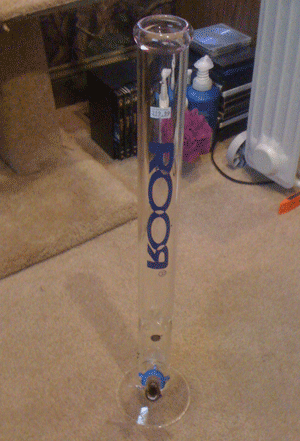 US ROOR
New squiggly in town
Is that like a Chiqueta trade mark on a banana?
"Just a roor us perc but left it in the freezer way too long . . .
the water inside was completely frozen - thought I broke my perc"
Custom German FairMaster 5mm
7mm Beaker
Roor 7mm flame polished
"Both RooRs are US. Got the Sheldon Black today, and the green label is about 3 years old, she's been good to me!"
A beautiful beaker from germany.
"Its yellow label with black jagged outline, no its not dumb scribble label. Its 31 of 93 made, 7mm w/ signature. German yes."
"I'm joining the zumo club!"

Now you can becpme a member of the Zumo team.
Here is how it works.
In Case the internet goes down, which could happen at any moment, we will revert to smoke signaling, using 50 Zumos with 50 good boys, placed at predetermined intervals around the world, to release smoke at the correct moment to write a message that can be seen and further relaid to the next Zumo relay.
You will be the Zumo chief for zone 'K'. We have one in zone B, H and S, L already but we need a whole lot of Zumos to make it work.
Peace O O O O O (five smoke rings)

Here is a nice tube with a sandblasted logo.
It is an original German Custom.
Below is a close up of the blower's squiggly.
This is my first Roor. Three chambers with two
five arm percolators and a splash guard.

This is E's milkshot! Super toker 5000!!
We got this piece in Ashville NC
B's 21st birthday.
18in Beaker, w/6 diffused end, worked bowl piece.
LEFT COAST!
After lunch, instead of desert!
Nice Custom
This is one of the first US Made Roors. It is an Icemaster 5mm with a green, instead of black, lable.
The forest green is exclusive to Roor US.
A closer view of the squiggly of the blower shows it on the right of the joint which tells that it is a US Roor.
"My 19 inch yellow RooR ice master"
Custom Roor - Custom case!
Carbon filter. . .
"hi my new roor custom pics for your gallery"
Here Is a shot of my collection an amsterdam design studio and two U.S. roor's....love the website
A Roor 5 mm IceMaster made in the USA.
The squiggle is on the other side on the originals or, if it's a custom, it could be above the joint. In any case it is a great piece.
A crowned Icemaster with ashcatcher.
It's not a hoaxe but a real German blown tube.
That's a nice milk shot but I can't make out what Roor tube it is.
Looks like a 7 mm Icemaster with sandblasted logo.
The real interesting thing here is that awsome looking t-shirt.
Wow!
This tube deserves a better pic but one can see it's a nice piece.
It is not the usual 3.2 mm but a 5 mm like the Roor Black series.
Here is a US made Roor after a heavy duty work out!
"his is a beaker worked ROOR allegedly made by opus. it has a clear indented logo that can be seen on the last pic already to fire up w ice and a nice bowl of calis finest. oh and worked perculated ashcatcher is part of a three piece set custom ordered and mad by Kenaroo, an excellent artist."
I guess it's not a Roor but it looks great!
Oh, here is another Pic. It's a LUX ! ! !
Sweet
Can't tell what part of the anatomy that tattoo is on.
I finally got word that the tattoo is real and it's on the upper thigh.
It look great!
"My Green label Little Sista. It has a Square Roor Bowl with a Roor
Carbon Filter adaptor and Alex K showerhead diffuser. SMOOTH!"
2 roor freaks and the collection...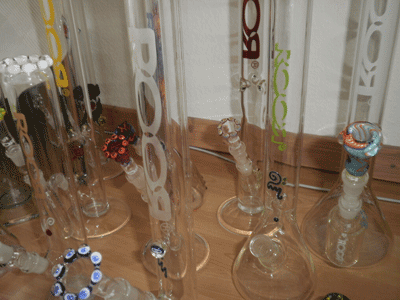 another pixxs...killer collection:-)
dealers cup 3.2 mm green label, green crown, spezial bowl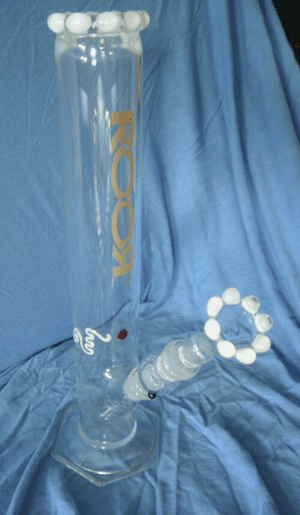 500er gold label, white crown,white bowl, white signature, activ carbon
so a great roor, comes from us, thanks to frankenthal roor shop, 5.0mm red label, fairmaster just a little shorter, nice crown and precooler with red signature and red label, red/white posidon bowl and a roor melting makes a dream come true!

dealers cup 5.0 black label, colourless crown,
dico roor melting, special bowl
fairmaster 7.0 rubin red label
amazing ice master 5.0 blue label, posidon bowl, blue orange, rasta mouth and melting
1000er dood colour matching:-)
cypress hill icemaster 5.0 special edition
dealers cup 5.0 white label, precooler thithe label, bowl-thanks to roor shop amsterdam!
detail
detail
a fairmaster 5.0 yellow label, asecatcher and bowl, all yellow green, looks so great
thanks Frankenthal, graet roor shop, graet work...so amazing roor bong...
spezial 5.0mm sandblastet logo, dicro roor melting, funny bowl, crown colourless, looks very nice
and 1000er dood colour matching:-)
next pic the crazy bowl collection!
And below, more detail, just for good measure!
7mm US straight 45cm tall with flame polished logo
7mm German custom Fairmaster Rasta Mouth
3.2mm German little sista Rasta Label.
US Roor is getting very creative!


Lay down, ice catcher. 6 diffusers on top chamber, 10 diffusers running along bottom chamber. Very unique very smooth, even has hook as i call it for safety.


Interesting . . .


Say Smooth . . .
Phat!
"My new 18'' RooR, 5mm, its pretty chill..."
"My ROOR® starter collection featuring :
ROOR. Green Label Mini-Master 7.0 mm thick glass, 35 cm tall ,
14.5 mm joint , 50 mm bore with ice-notches, diffused downstem.
ROOR Black & White label 3.5 mm thick glass , 40 mm tall, 14.5 mm joint, 55 mm bore wih ice-notches, diffused downstem, both made in Germany"
RooR fresh like mint julep
A Lil' Sista' with flame polished logo.
Awesome set up!
"ROOR Zumo Orange Label 4.2 with 21 hole diffuser going into the Zumo with a ROOR Black Label A/C with roor downsteam 2 inches from bottom. All set up to a ROOR male-female adapter, then carbon filter and ROOR porthos bowl."
"just another day... laid back milking the phat Rast"
"Hey i Have a nice American made ROOR Icemaster, its got two 21 hole 14 cm ROOR diffusers, a real ROOR german blow Blue label ashcatcher with a medium size ROOR bowl.
Bad part, base got smashed on a longboarding accident :("
It looks happy enough.
Nice Milkshot of ROOR greenlabel icemaster 18" straight tube US... with ROOR Blue Label a/c.
"hey heres a pic of my roor glass bong - its a 4 arm percolated bong that is just over 14 inches tall... it came with the blue dot bowl but im goin to be gettin a custom one soon -D"

Roor 21" German black label double tree perk, w/ splashguard.
Roor ash catcher.
"My bong with my buddies exclusive RooR bowl piece.
The glass work is great on it, thanks roor!"

"here is the professional Picture of my Bong
I hope u like it and show it on ur Page :) "

The milk shot below is also very nice. . .
The German blowers do such fine work. . .
"here are a few pics of my new roor and my lux and accessories..."
This was found in SEATTLE AREA.
It is a Roor made in the USA
If it was an original German Roor the signature would be
on the other side of the joint.
Candid snapshot.
"Just another day at beez."
5mm German custom icemaster with sandblasted logo


Orange Juice
"this is my Orange Label Roor. I love this thing ive never really been able to find a bong that milks as fat or gives me as big of a head rush. when i bought this amazing piece i got a roor king label ashcatcher with diffuser tree arms. With that ashcatcher all my friends and i agreed this was the dankest set up they had hit. I now have a 32 hole German Roor diffuser. This piece however is a Roor blown in dementia Roor.us
By the way i can and have numerous times broken out the 1.3 gram bowl piece packed a rimmer lit,snapped, and cleared this thing brown in one breath. Lungs of steel bro. no one snaps brown Roor bongloads like Southern California Medical smokers. hope ya post the pic all my college friends and old hometown friends just call this device The Orange Label. Ive been through 3 two foot orange labels 2 straight shots and my pictured beaker bottom. I gotta say the straight shots were amazing but a two foot thick 7.9mm beaker bottom is the best combo for a Roor in my opinion. This is a THICK lifetime indestructible piece"



The cat is dreaming about the nice sig on the tube.
"Hey there....this is my first ROOR. Its a 45 cm Icemaster Rasta series. 5mm thick glass, patiently(NOT) waiting for a 12cm 18.8 ROOR diffuser for a smoother ride. Absolutely excited to own this and will not be my last! Anyone can help me with its authenticity would be awesome...obviously I'm hoping its from Europe but i am new to this. Couple pics, up close pics for possible help of origin. Rasta adorned in some tasty reggie kush and iced up. Kitty loves the Roor!!!!!!! "

The tube is a US model. Nice but Made in the USA.
The German blown Roors have the sig on the other side of the joint
or if it is a custom it is right over the joint.
Day Ttripper!
Phx ash catcher into custom inline ashcatcher into roor ashcatcher all on a bubble inline phire bong

This is a Sheldon Black Platinum Edition,
19' Beaker bottom with 6 diffuser downstems,
ROOR 18' straight shot swirly ashcatch
SOUTHBAY CALIFORNIA
This isn't a ROOR, but it's a Quicksilver special from
Venice Beach California.

Green label. Roor ashcatcher and downstem. Awesome sig.
Sent on the Sprint® Now Network from my BlackBerry®
18" black label roor 5mm glass
roor diffuser and an ash catcher
also custom bowl

"I thought I was having a top notch 4/20/10 until i heard from a close
friend of mine out in Montana. He had the pleasure of winning a 4/20
raffle at a headshop and walked home with a $3,000 bubbler for the price of raffle tickets. I still cant believe it....
From the pictures it's hard to see what the bubbler is composed of, but basically it's madness. Done by the artist T funk. Happy Holidays!"

Check out T Funk on this YouTube video.
"pics of my 3 foot roor rasta kinked pretty rare along with a 2 foot
triple perc roor and a 18 inch green roor with loads of og kush haha :)"
The 420 Trio with og Kush playing "Milk Time Hues".
"there are three custom roor's. one is rasta, the other is a custom double mid section roor, the other is a german black widow with a black crown and recessed logo. theres 6 custom 18.8 roor bowl pieces, along with at least 30 more other headie bowlpieces, all from respectable artists, such as salt, darby, stoke, roor, ect. next to the bowls is a collection of sick rasta themed spoons, and a gemeni headie behind them. also in the back row is a authentic hurricane, a satellite with matching ashcatcher, a zob ss inline diffused base single perc. and a headie as fuck bub and glass on glass jar set, with two matching bowls for that. just some of the collection."
Whew|
"Just picked up this Sheldon Black 6 arm perc bubbler with 14mm detachable mouthpiece and 18mm bowl.
Attached is a German Roor ashcatcher. "
7mm flame polished straight

Everyone knows what a hot dog is but this one is a chill dog. lol!
*Tupac Amaru Shakur*:

~ 18" Black Label Roor ~ 5mm Glass
~ Low-Profile Roor Diffuser ~ Roor Diffused Ashcatcher
~ Custom "Iceman" Bowl

"Here is a pic of my two Roor.Us 9mm King Straight tube and Beaker."
US ROOR 24'', 18.8 Joint, 18.8 Roor Slide,
ROOR Percolated Crown Ashcatcher.



A closer view
"German ROOR Red Label 35cm Straight. German ROOR 3.2mm Kustom Little Sista + Black Logo + 10cm Ext + Ruby Ice Pinches.
Black Label Ashtray :) enjoy."

Below, a closer view.
Ruby ice motches are sweet!
Nicely iced up and ready to ripp.
That Greatful Dead t-shirt is awesome!
"I love ripping this bong - to anyone thinking about getting one. Just get one... These are really the best out there. ~mOe"
"Here is a picture of my Sheldon Black I got in Oct of 09 with a custom inline a/c, roor and sheldon bowls and a little purps on the side.
All on top of my kitchen counter..."
"The Fix" by P. Haze
US Roor Beaker with Buddha
"Just picked up this Sheldon Black 6 arm perc bubbler with 14mm detachable mouthpiece and 18mm bowl. Attached is a German Roor ashcatcher. Sheldon Black is the new us roor. "

Rasta brothers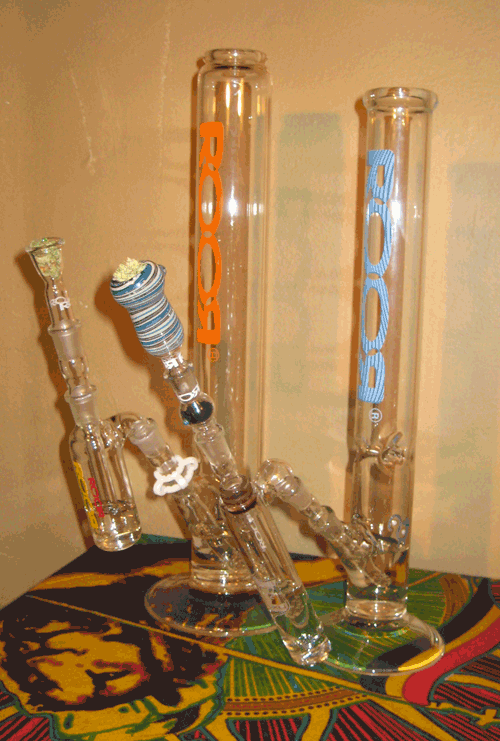 "Here is my 18" Blue Series Icemaster with double Roor
diffusers and Galaxy ashcatcher.
A custom US Roor bowl (below). Just doing what ought to be done."
"The other bong is my buddy's 5mm Zumo with 3.2mm rasta Roor ashcatcher. This bong was put together to represent Oregon State Beavers."

I'm a Beavers fan too!
"Here are some pics of my Roor Classic bubbler, complete with carbon filter and gold bowl. . .
Also included is an attachable bong made from a graduated cylinder and surgical tubing. Its called the Rooracle, and is in memory of my friend's custom Roor bong (see last pic).
If these are worthy of your awesome collection of Roor pictures, feel free to add them!"
ROOR BLUE LABEL
60cm Custom w/ Helix onehitter
Does that poster say to LIGHT up a BUD?
HERE IS MY BELOVED RASTA ROOR, DIFFUSED & CARBON FILTERED WITH ITS NEW CANADIAN HAND BLOWN INLINE A/C.
IN THE WOODEN STAND MY OPTION BOULS :D
BLESS!
2 foot 5mm U.S. rasta label, 18.8 diff., custom Mike Fro crown bowl.
It also has 2 signatures (one on top and one on the bottom)

"Our roor family.... all US...."
(below are two other pics of the same family in a closer view)
A wonderful collection of US made Roors
Original German blown Lil Sista'
5 mil, two foot, custom bowl with 24 hole diffuser and bistabil joint
Some milk?
A Pink family photo."

"My friend's brand new Yellow Lable Roor with a diffused ash catcher, and his old Lux Lil Sista' "