Contains !200 photos
This Roor gallery is now a photo archive and resourse for Roor fans.
I will not be posting any more Roor users' pics.
These several pages of pics contain only pics sent in by private persons with no commercial interests.
My new black label icemaster 5.0 from germany 18.8
55cm/22 inches tall <--> 45mm
black label custom diffusor.
Hope you like :)
A closer view of that awesome tube and a chlice bowl.
A jar of goodies too!
"Hi.. just wanted to give you a pic of my new roor.us.. 5mmz with 4 arm tree perc.. and difusser + diffused a/c"
"I have 4 Pics of my old Icemaster 5.0 German Custom.
I sold it a few months ago :(
Now i miss it so much that i go this or next month to roor an let them make a Icemaster 7.0 for me.
When i have my new Baby i make pics and send u :D"
heres my complete rasta roor family,
along with my four rasta bowls in their stand
big ups to the rasta roor tokerzzz
I can find one Roor pipe in this pic. It is a blue logo - 3mm - 1000 ml.
and the blue is an original german blown pipe.

The pic of the sandblasted pipe below is from the same person after he got a new camera ; ) I have no idea who blew that tube.
"A Before and a After shot of my 7m German Lil Sista. I dropped it off at The RooR Store in Amsterdam during the 2009 Cannabis Cup. It was shipped back to RooR factory to have a The Royal Treatment. I had custom Crown Mouth Piece placed on it. Also replaced Cali Ash Catcher with a 5m German Ash Catcher."
Yikes! That is so nice with the flame logo.
"The last shot is a old Family photo without the new Crown, 7m Powered by Howard and my Bent Neck."

Custom RooR blown and signed by Martin Birzle. Its a Lil Sista 5mm thick, 18.8 joint, Flame polished logo, diffuser, ice notches, narrowing section, with a red and white rasta mouthpiece and bowl.

Sweet Roor Custom signed by Martin Birzle
"My Roor w/ Kind Creations "

That is a Original Dealers' Cup and it is a beauty!
The Zumo with 29mm Ehle a/c and 18mm turbo bowl
(all Roor pieces are from Germany)
Brand New Toro with a Kind Creations 6 Arm perc a/c
(the a/c has a glycerin in the top).
Toro bowl
"my first RooR, a RooR.de 10th anniversary ice master, limited edition of 333. Special to the anniversary edition are the platinum ice notches, custom 10th annv. logo, and the blue crown bowl. I've included detail shots of the signature, the german diffuser, the limited edition 168/333 engraving, and of course the obligatory milk shot. Enjoy"
See below images
Perfection!
"new roor littla sista with my roor skateboard"
"My purple Haze Lil Sista 18.8 with diffuser, carbon filter
and Mike Fro blown bowl."
All iced up and ready to please!
Sheldon Black (US ROOR/Dementia) 18.8 bubbler
with 6 arm downstem. Hits so smooth!
Dear me!
A fantastic Roor Custom.

"7mm (green label) Little Sista with diffuser and hashbowl,
set atop my windowsill with Amsterdam in the background.
The ROOR was purchased here at the ROOR-shop.
Happy toking!"
"Custom PHIRE 5mm 18.8 joint, with
(see below) soulshine family glass inline a/c".
Very tempting!

From left to right: Jar of Bubba kush, Blue Dot, Jerome Baker,
Venom, Volcano, and my first bong the Roor"
Below, a nice collection of bowels.
"That's my orginal RooR bong....
it's handmade only for me...
a real roor custom bong".
"That's my orginal RooR bong....
it's handmade only for me...
a real roor custom bong".
See the phat turtle below!
Sweet!
Roor Beaker 5 mm made in the USA
German made 7.0mm "Rasta" Little Sista', 18.8 joint with ice notches.
"I have a full picture of my family. Not all Roors
but still hits just as good as one!!"
From Left: Weedstar Connector + Inline
The first "Zenit"Custom Bong (Made in Germany)
Inline Bong with an 4 Arm Percolator and
Black Rasta Krown (Prototype)
RooR Lil Sista Red Jang
BOOOOOOO
"Just thought I'd show off a new e.t.r slide I just picked up today
it's just perfect fir Halloween don't You think?:) "
7mm 18 in green label with ice notches
"18 inch armed zob with a syn ashcatcher, then the blue label illadelph with the roor ashcatcher, then the roor steamroller."
Fresh, like mint julep
"This is my Roor Green Label, With Roor Ash Catcher and Diffuser"
"not a roor but a beautiful medicali 15" double perc with a name brand inline diffuser ash catcher. rips like none other."

"Heres a little update to the collection. The Ziggy with a delicious headband nug. The Fairmaster with a nice Wildrok Inline.
Then there is the Blingpin with the Sovereignty a/c and some earwax that is about to get smoked....Cant forget about the digi vape!!!"

All Original German Roor
"Have a toot on the Crystal Bong
5mm glass, 18.8mm joints.
Diffusers in both water chambers."
"Here is a pic of my Roor Blue Series - 250"
''American label Roor w/ a diffused cobalt illadelph style ashcatcher. "
"Just thought I'd send out a lil roor love:) etr 18.8, matt head mike push slide and custom fro roor teardrop."
Some nice german Roors

A milk powered ZOB
Milk Shot!!
My baby--Custom PHIRE. With roor diffusor.
Originally from Dementia, but purchased from a shop in Phoenix, AZ.
18", 18.8 bistable colored sectional and mouthpiece. Mouthpiece is dark green stripes not black and below is a custom Fro roor bowl from Dementia.

Fro Roor bowl
This is a new slide I recently acquired for my collection.
It is a half wig- wam half sandblasted 18.8 slide from elks that run.
Roor Tattoo
"Me and my baby :) German 7 mil custom all milked up"
The Flame Polished logo looks awesome with milk.
"The Terminator"
24" ZOB halo with ROOR ash catcher making it
double diffused with a worked bowl and carbon filter

Pink label RooR complete with ash catcher
and the Pink is below with a wonderful German Custom Beaker.

Both are German originals! (see correction below)

Correction:
'The 14" beaker with the red white and blue stick stack section with matching bowl is not German made. The artwork was done by "Shawn Daddy" (can be seen on tokecity under Dementia's gallery) and was put together in Carpinteria, California. (shop no longer exists) I personally put that one together when I worked for RooR Kustom. I know some people think that German RooRs are better quality but in the case of our little "Kustom" shop, that was never the case. You can say whatever you want about RooR USA but the Kustom shop took no shortcuts and produced some of the finest RooRs and also is credited with the 2006 Cannabis Cup winning Lux Scientific piece and any other Lux piece with artwork. Sorry to be so defensive, but I hope this information is helpful.'
A beautiful beaker bottomed Rasta Logo.
The signature (squiggly) is unusual.
Zoin, Roor, Pure, US Tubes, AMG. Only the Best
A Rasta Roor with a crowned bowl and carbon filter
An original Roor Blue 100 with milk
"Here a pic of an AK hand made mini-tube with a bi-polar AC
(bi-polar is one color on outside different color inside same design)"
Milk is good for you!
"This is a ATX bong with a detachable base, which makes for easy
cleaning and even turns into a steamroller. (see below)
A ROOR ashcatcher with splash gaurd."
A very interesting idea, the detachable base.
Steamroller indeed!
"green label 16 inch. straight shooter
ROOR diffuser"
German Roor Custom with a beaker base, crown mouth,
a narrowing and a fine spiral bowl.
PINK
"my roor rasta logo with roor rasta posideon bowl and ash catcher, along with some other wonderfull roor accessories! "
Milk from a Rasta. . . Sweet!
New RooR 18" Zumo Rasta USA
What a beautiful picture.
A bit of an Andy Warhol effect!
Like this one below
A Sky Scraper
Lil' Sista' crowned
Feeding time - Yummy!
"Here is my 3.2 Big Sista...Magic Glass AC and my new Soul Shine inline AC. The bowl doesn't look like much but it's massive."
"my three foot rast label roor!"

"all diffused all custom bowls
the one on the left i bought in amsterdam at the roor shop"
"18'' RooR USA label with green illadelph diffuser, green blue dot ashcatcher along with a green triple tree perc diffused ashcatcher"
Roor.de 18" American Flag Label Beaker Bottom 4mm
Roor.us 23" Black Label/White Outline Beaker Bottom Perc 6mm
Gold Crown Black Label Ashcatcher with Splash Guard 5mm
Roor.us 24" American Flag Label Straight
Roor.us Custom Bowl
Roor Gold Crown Label Ashtray
Roor White label Poker
Roor carbon filter
close up of ash catcher below
here are some photos of my roor with its new bowl
i broke the difusor but gained an insanely worked rasta bowl
win some lose some, hits like a dream
big ups to all the rasta roor smokerzzz!
Awesome Rasta work.
Holy Family
7mm 2' green label beaker
German 5mm 18" black label beaker
5mm 1' black lablel beaker
5mm 18" black label straight shot
5mm 2' yellow label bubble bottom
"heavenly smoke"
A photo of my lovely new Rasta Label Icemaster and Lion of Judah
Dealers Cup in action, and a few shots of them here and there.
Rasta has the squiggly of a very well know German Roor blower.
Lion of Judah
Lion of Judah
Dealers Cup in action
Lion of Judah relaxing in the forest.
The flame polished ROOR logo is awesome.
the Lion of Judah's mane
"Here are two photographs i took of my bong.
It's not a Roor but at least it got some roor parts :) "

WS Messias Illusion 5mm 40cm
18.8 HQ Loch Diffusor 11,5cm
18.8>14.5 WS B2 A/C 3,2mm
14.5 Roor downstem 10,5cm
14.5 Roor narrowing bowl


"Here's some pics of my RooR's you can use for your site.
I love your photo gallery it's awsome."
Thanks to good people like you, I have great glass to show off in the Roor Users' Gallery. Keep 'um comming!
"First picture gass mask with sunburst bowl, second pic is the whole collection and the third picture is my new roor."
A beautiful clasic Dealer's Cup from Germany!
"this is my slowly growing family
the rasta edition roor icemaster with kustom worked ice pinches (see photo), carbon filter, difused
a roor blue series 100 with kustom diffusor marbles (broken roor peices ( see hashbean420's video on youtube and close up pic below)
beeline of course, bountiful nugs are G13 Medicinal
roor ashtray and glowrod, locally handmade rasta bowl, space case titanium buster and of course just a scale model of the local law enforcement vehices just to make a smile :)"
Sweet little Blue 100
Super long Dealers' Cup.
You could burn that whole head and not even know it! LOL
"OK Here we Have some of my Photos from the THC convention on Los Angeles a couple of weeks ago. I am a RooR Fan & owner But I am going to get some Illadelph Glass Because its just so sweet.
Downside its like double the price This Purple Raticello Coil will set you Back $3800 US. All Illadelph Glass Blowers have scientific blowing degrees thus the Quality L8 "
Illadelphi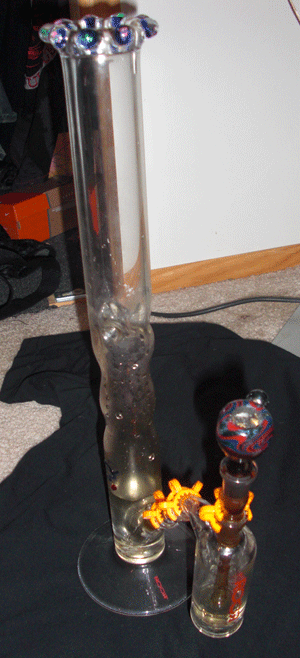 Custom made German Roor with Ash catcher.
THe crown is a dream and it has ice notches and
two narrowings. Phat!
" i recently won this roor at a local smoke shop in my town in california. . . i payed for a simple pipe and won 500$ roor truly amazing"
Nice custom and it is one of four.
"Milking ROOR.us 20" Black/Yellow Label
Double 5 Arm Tree Percs With Splash Guard and Ice Notches
5mm Thick 18.8 Diffuser, Carbon Filter, and Custom Bowl"
The Roor Zumo is really phat and packs a mean wallup, just like a Japonese Sumo wrestler. Thus its name.
Have some milk. . . a lot of milk!
Nice custom Roor Rasta logo with goodies!
"Fire and Ice" is the name I gave this one.
Check out the fine work by the German blowers.
Really fantastic
Awesome, awesome!
"first picture gass mask with sunburst bowl. second pic is the whole collection. and the third picture is my new roor...
upgrades comming soon!!!"

Looks like a German made Roor Dealers Cup with black logo.
"Newly Upped US Green Label 18" Double US 09 Diffuser Stems
New Custom Bowl (below) all from Venice California
15 mm Jar with Dank organic Blueberry"
RoorR Custom 14mm Bowl US made
"Here is my custom inline double chambered Cali super bubler. It has a custom worked inline and a custom worked downstem with diffuser holes as well. made in Cali."
Wild!
Wonderful section
"This is my Phire Coil Condenser bubble Bottom With a crazy ash catcher by SYN. Bong is 22CM- either 7 or 9 Millimeter Glass. Ash catcher comes with a 6 arm tree perc, diamond tipped downstem and diamond cut inline." Close ups below.
A Roor user sends me this nice US Roor bent neck.

Below is the bent neck in a family photo.
A nice family
7.0 US Beaker 24"
5.0 DE Dealers Cup
7.0 US 18" Straight
5.0 US 10th Anniversary Edition
5.0 US 18" Rasta Label
Rasta a-go-go
This one is my best friend
This is another wonderful new work from the Roor team in Germany.

Let's have a closer look at detail, below.
Both the tube and the ashcatcher have the silver Roor logo with a ruby.
The section is wild with opals shimmering and there are also opals in the crown. Marbles everywhere.
What a light show!
lil sista 3.2 german made, carbon filter,
ice notches

Milk shot with jack herer nugs
Sovereignty
Still Hot !
Great section work with matching bowl
We are looking at Roor Custom work done only in Germany
by real glass artists.
And here is some opal worked into a marble
See it shimmer ooooohhh
"this use to be a double perc tripple chamber roor
and i broke the bottom perc and had an inline put in.
its a 5-arm tree, 4 slits per arm and 6 slits on the splash guard"
TEXAS bitch
5mm 18 inch lux tube with tree perk.
Fro bowl close-up below.
Awesome!
It's a German made custom 5mm beaker with a black label diffuser, a diffused 5mm flame polished ashcatcher, a carbon filter and an american DOM bowl :)

Roor little sister custom
Got milk !
18 inch 7mm custom roor and roor ice catcher
Here is my family photo

I have a
- 55cm German Roor Custom Fairmaster 5.0 - Black Widow
- 45cm German Roor Custom Icemaster 5.0 - Huge Sandblasted Logo
- 35cm Roor Zumini 5.0
- Roor Kustom 4-arm tree perc pre-cooler
- German Roor Classic 3-Piece Bubbler
- all Roor slides and Roor wooden stand
- Roor traveling bong bags for all Roors


"Phx. Single 16 tree hole domed percolater. Diffused downsteam. 20mm Bubbler slider/ash catch. Ice nipples. Broke the joint, but nothing a little jb weld couldn't fix. This is my baby, she rips beautifully. "
"This is my RooR 18 US Green Label With
Roor ashcatcher and a Roor Diffuser Stem.
Everything on this Tube was Hand Picked Its Plumbing is Sick.
Works so F'in Nice
SkYWalker in the jar next to the tube."
"hey this is our little happy family. hope you enjoy."
"24 inch Blue lable 18. 8 milimeter defused. 20 inch black white line double 5 tree perk 18. 8 milimeter defused"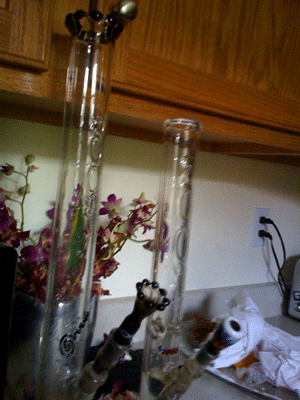 "Just another example of fine german craftsmanship.
My 7 mil german icemaster and my buddies
new black widow custom..long live roor:"

The Star Spangled Banner by Jimmy Hindrix plays
in the background of my mind.

See him here on Youtube
"this is a very rare (only 4 in the world) 8mil beaker American label USA RooR, with a Roor Ash Catcher and RooR bowl. both Downstems are diffused!
God Bless America!!!!! and yes it is used very often!!! as it should!!!!"
LUX is not Roor but due to my passion for all good glass
I will let it pass unnoticed by the censors.
"Just picked this up today maybe someone can tell me what it is."
Made in the USA from the looks of it. . . Roor Germany only used orange on one tube that was a numbered special edition. They do not offer that color even on customs.
Dealers Cup 7mm
The DC is boss!
"this is my roor steam roller with a syn ashcatcher"
It really does not seem like it but these two guys and having a video conference.
This guy has a low battery and that is why his eyes are not
all a glow like the other one.
As there are zero places to find RooR bongs in Buffalo I had to settle upon the closest thing. Replacing my broken 2 perc. Phyre (formerly a beaker bottom) is a Pure Glass straight shot with ice jags and bistabil joint. Nothin fancy here, just milky smooth rips.
Lil Sista 5mm RedJang

The two pieces of art go so well together. Bro and Sista'Blown in Germany, as you can easly see from the lines and balance.
My dog knocked over my German Dealers Cup the other day, so today i went out and got this 5.0 Rasta Icemaster. Heres a few pics.
The sig is sweet!
Looks a bit like a snail that has been eating fresh weed!
Here is the German made dealere cup with a broken
joint which can be easly fixed.
In the meantime he has a wonderful rasta roor to pass the time.
Rasta milk is the best!
super sick AMG from Venice, CA

Green Roor with Fro Slide
20 in Skinny beaker illadelph with revere glass slide, medicali quad perk 18 in with fat mike slide,
sour zong and Orange Roor steamroller
And there were Three ! I Just received these 7 mm Powered by Howard
Ice Master # 10/222 Signed on the base (M.Birzel Amsterdam 2009).
I purchased it in the RooR Shop Amsterdam.
The other two you posted lower on your first page. They are the Germany 5 mm 22" Bent Neck,and 7 mm Lil Sista w/Ash Catcher.

Orange Zumo 4.2 w/ Tri-label ashcatcher
"The Dush "
Pure black HomeBlown, 5 perk ash catcher.

a peek at the super snapper
super snapper milk shot
German made Roor blue
This is a original German made Custom
with flame polished logo and ruby red notches and mouth.
"This is my daily smoker "

Roor tilt bowl and carbon filter The mouthpiece by C6.
The Roor carbon filter makes it smoke like a dream
Like mainlining the THC!
Roor flame polished logo with a marijuana leaf in the background
just a family photo.....
5mm roor.de custom blasted logo
16" phire beaker bottom
3.2mm roor.de "purity"
8" chaos glass
......and of course something to wash it all down.
"he isnt a roor but is nice thick american glass
nice blue perc tree, ice jags, clear ash catcher and a blue bowl
i love it "
"Bongrip Supreme"
The best of all that is German. Bongs and beer!!!
THE NORTH LONDON HIPPY WITH a J LEE slide

(more on the slide below)
NICE MILKSHOT OF THE HIPPY!
CUSTOM JASON lEE SLIDE!
CUSTOM JASON lEE SLIDE!
"her's my Zumo, two roor.us fairmaster custom logos
and my luke wilson inline "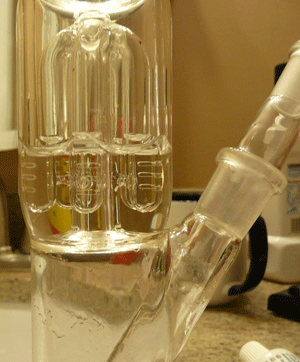 "14" RooR Mini with 5-arm (3-slit) tree perc, splashguard, ice pinches,
18-14mm 13-hole diffuser"
US made ROOR with milk!
"This is my RooR steamroller with added perculator and a ROOR ash catcher as well as a base water cooler. Enjoy"
"Here are some pics of part of my collection".

* Bowlpiece done by Stone Glassworks, fire and ice reversal
* Close up of nice GDP bowl with tree perk
* San Diego Charger's LaDainian Tomlinson bubbler
* RooR bowl's with Dr. Seuss bubbler

* Orange Lable RooR w/ Tree Perk & Ashcatcher

Thanks 4 looking
New Amsterdam Design Studio (ADS) Glass. Its 24",7mil glass, custom ash catcher, white and black art, single perc. The ADS was just released on 4/20. Also the Volcano vap. Enjoy!
Milk never tasted so good!
A family shot
"Couple of Roors and a rasta illadeph strait tube w/ ash catcher", below.
"pic of my etched RooR Steamroller"
"The O'Rourke", Classic Roor made 5 years ago, Green Label. CSU/CA.

30" Rasta label 5mm US beaker,
18" Blue 5mm Icemaster,
both 18mm with an extra german roor head.
A vivid pipe dream which will surely become reality.

Roor shot glass full od spirits!
VENOM
"just a quick shot of my up and coming family.....more to come"

AMG with milk shot below and a close up of the magical bowl
32" custom wide shot AMG, single auto fill perc, 7mil glass.
All Created in Venice Beach, CA
Dealers Cup 7mm
"NICE NEW 7MM CUSTOM PHIRE W/ DIFFUSOR
TO ACCOMPANY MY ROOR"
Here's a close up of the base and diffy
German Roor Custom Bent Neck
"Here's The Only Bent Neck Ever Made From RooR of Germany. I Just purchased it from The RooR Shop in Amsterdam. It is 22" Tall 5 mm Thickness 18.8 with Tri Colored Ice Notches, Matching Mouth & Bowl Crowns, Defuser Down Stem & a Sick RooR Logo Button."

Close-up further down. . .
"Here's a Photo of the Bent Neck
with my 7 mm Flame Polished German Lil Sista
Signed by Engraved on the Bottom By Martin ( MB 2008)"
Close up of the above bent neck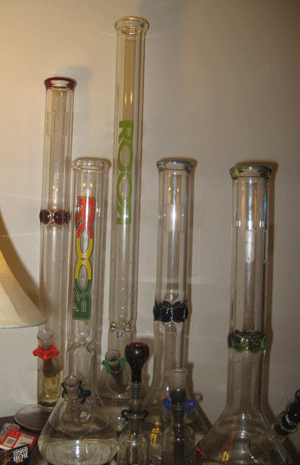 1) 2 foot blue dot (red) 5mm,
2) 30 inch 7mm roor green label,
3) 18 inch blue dot (blue) 5mm,
4) 18 inch blue dot (green) 5mm,
5) 18 inch rasta roor 5mm.
Also roor and blue dot ashcatcher!

Interesting Squigglies
"My RooR & Vape combo i like using it to cool the smoke just put enough water to cover the bottom of the stem and it wont filter to much thc. "
In the insert, a roor cube bowl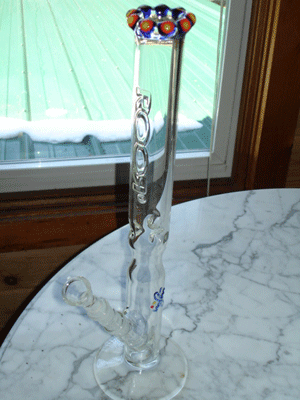 German Roor Custom "Fire Fly"
"This one is called the fire fly. I waited a long time to get it by mail.
This is my first Roor piece "
"This is my new bong i bought in amsterdam,
I would really like to know details about it, like: glass thickness and where it was made, etc..... because i can't find a bong like that anywhere on the net! maybe its a custom?"
It is a custom. It looks like a blue series with notches and a white outlined logo. I would say it has 3 mm wall thickness and a 14.5 joint. I did an inset of the white outlined logo so as to see it better.
My family 14" straight tube 3 label Rasta ROOR named Sanka
and my 18" beaker bottomed blue label kinked neck ROOR named Bender. He has a ROOR diffuser and 2 custom ROOR bowls.
From left to right is an 18" Faded Glass glass on glass,
Sanka in working order, a tiny Sherlock Bubbler
and my friend's 14" beaker bottom HVY Glass

A family portrate
A closer view of the new Roor blue label
Here is a 18" Rasta Roor.us Beaker 5mm with a diffuser,
rasta tri-label ashcatcher, carbon filter, and white dot bowl.
A proud family.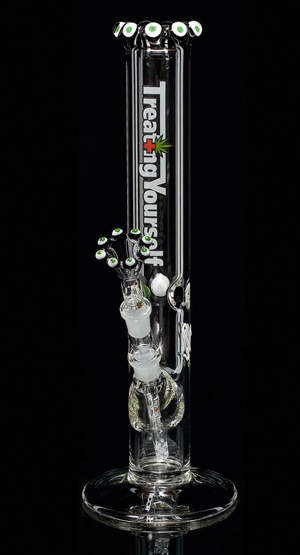 A Custom Roor "TreatingYourself"
It's got to be better than a doctor!
Here is something really new from Roor and only available through
tokecity. Limited edition = 30 so get one while it's hot.